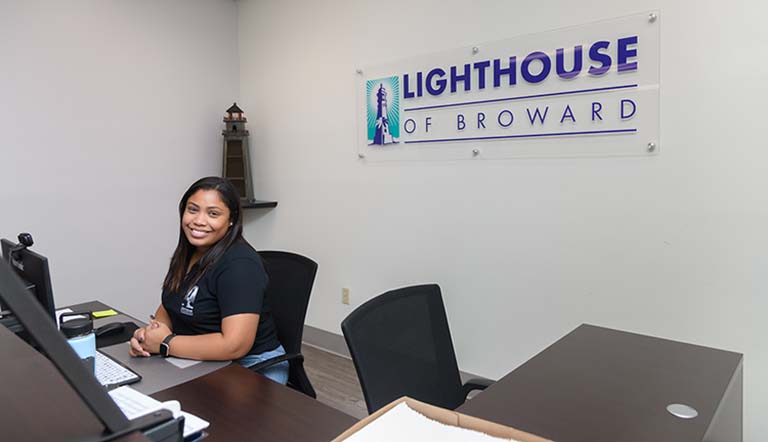 The Lighthouse of Broward, located at 650 N Andrews Avenue in Fort Lauderdale, Florida, is the preeminent resource for the visually impaired in Broward County, provides specialized rehabilitation, life skills training, and employment opportunities to enhance the independence, productivity, and dignity of children and adults who are blind or visually impaired.
Lighthouse of Broward, founded in 1973, is the only private, non-profit 501(c) (3) in Broward County that provides comprehensive educational and rehabilitation services and counseling to blind and visually impaired children and adults. Serving more than 2,500 persons each year, the Lighthouse is accredited by The Association for Education and Rehabilitation of the Blind and Visually Impaired (AER), is a United Way partner agency, and a member of the Florida Association of Agencies Serving the Blind, VisionServe Alliance, and the NonProfit Executive Alliance of Broward. 
Broward County, home to approximately 150,000 people with a visual impairment, has one of the highest incidences of visual impairment in the nation. This is primarily because the community is an attractive retirement destination for people over the age of 60. The major causes of visual impairment most often affect this age group: macular degeneration, diabetic retinopathy, glaucoma, cataracts, and retinitis pigmentosa.
The Lighthouse of Broward serves blind and visually impaired persons of all ages. Services are offered at our Fort Lauderdale campus, remotely by phone or video conferencing, in-home, and/or other community locations.
Our programs include:
Bright Beginnings: a year-round early intervention, developmental and support program for parents and children ages birth through five years old. The program is designed to help children reach critical developmental stages and prepare for kindergarten. 
David & Jean Colker KIDS (Keys to Independence): a year-round program, including weekends, holidays, days off from school, and a summer camp for 6 to 13-year old blind and visually impaired children.
TeenLIFE (Learning Independence From Experience): a year-round program for teens and young adults ages 14 to 21. It focuses on career exploration, job readiness, work experience, daily living skills, and college preparation.
Ready to Work: an adult program providing classes to identify work skills and goals, write resumes, complete job applications, fine-tune interview skills, build competitive work habits, learn corporate etiquette, and problem-solve to overcome barriers and gain employment. This program is available to working-age adults.
Workforce Enterprises: a unique program that creates job opportunities for those who are blind and visually impaired. The program enables clients to become wage earners and taxpayers, thereby reducing their reliance on government support. Of equal importance, Workforce Enterprise maximize independence, builds self-esteem, and increases community engagement.
Vital Living: for adults emphasizes skills to enhance the quality of life, the ability to live independently and participate in the community. It offers training in independent living, safe travel, computers, the Internet, smartphones, and adaptive high-tech portable note-taking devices, in addition to individual and group counseling.
NSU Low Vision Clinic: assists low-vision clients and the general public in partnership with Nova Southeastern School of Optometry onsite. In-home follow-up includes teaching best use of remaining vision with adaptive low vision devices. Insurance may be billed
If you or someone you know is having difficulty managing daily life activities because of vision loss, please contact us. Our hours of operation are Monday through Friday 8 am to 4 pm.
The Lighthouse of Broward is fully accredited by The National Accreditation Council for Blind and Low Vision Services (NAC), and is a member of the VisionServe Alliance, as well as the Florida Association of Agencies Serving the Blind. The Lighthouse of Broward County is a United Way partner agency. Funding is partially provided by the State of Florida Division of Blind Services. Additional funding required to meet the Lighthouse of Broward's annual budget is provided through an individual, corporation, and foundation grants. We maintain the highest ratings at both Guidestar and Charity Navigator.  Find out more about how you can help support the organization's important mission.
---
Our Values
Our values are the guiding principles for how we conduct our work and interact with others.
At the Lighthouse of Broward, we believe that we must always:
Treat clients with dignity while promoting independence.
Provide high-quality and innovative services resulting in positive outcomes.   
Encourage collaboration between clients, staff, and partners to think outside the box and feel safe to communicate ideas.
Strive to enhance public awareness and promote our value to the community.
Sustain and reinvest in our mission and communities by wisely managing human, natural, and material resources.
---
Fact Sheets
Here are quick reference guides to Lighthouse information and services in English, Spanish, and Creole