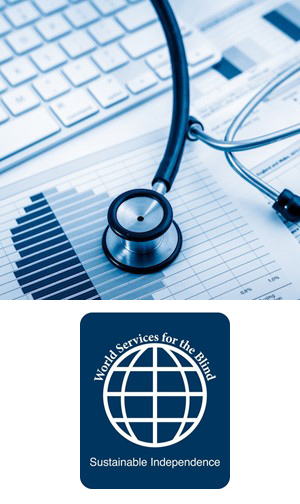 Certified Medical Billing Representatives make up a crucial part of the Health and Information Technology sector. Because medical offices are moving away from clipboards and paper files and focusing on electronic records, this shift in the industry is making jobs more accessible to visually impaired individuals who already have the technical skills required to do the job. In this profession, certified individuals have the potential to work in hospitals, clinics, nursing homes, administrative support centers, and even medical laboratories. With such a wide variety of organizations requiring experts, there is a dynamic job market with plenty of options. Becoming a medical biller is just one of many jobs within the medical administration field and is a great step into the medical administration career pathway. Many open positions offer remote work opportunities. Work from home with high flexibility as many hospitals operate 24/7. The Bureau of Labor Statistics estimates demand for medical billing and coding specialists to rise by 11% from 2018 to 2028.
The Certified Professional Biller (CPB™) AAPC credential prepares medical billers with skills to maintain all aspects of the revenue cycle. Through rigorous examination and experience, CPBs have proven knowledge of how to submit claims compliant with government regulations and private payer policies. They follow-up on claim statuses, resolve claim denials, submit appeals, post payments, and adjustments, and manage collections. The CPB medical billing credential is vital to the financial success of the professional healthcare services claims process.
This training provides the most up-to-date information relating to the health insurance industry and different reimbursement methodologies for correct claim submission. Successful completion of training prepares you to sit for the certified professional biller (CPB) exam and work in a medical billing department at a physician's office, clinic, facility, other healthcare entity, or as a claims examiner for insurance carriers.
Certified professional Billers will be able to demonstrate:
An understanding of various types of insurance plans
Expertise in applying payer policy, Local Coverage Determinations (LCDs), and National Coverage Determinations (NCDs) for successful claim submissions
Knowledge of CPT®, ICD-10-CM, and HCPCS Level II coding guidelines
Successful navigation of healthcare industry rules and regulations, including HIPAA, False Claims Act, Fair Debt Collections Act, and Stark Law
An understanding of the life cycle of a medical billing claim and how to improve the revenue cycle
Expertise in effective claim follow-up, patient follow-up, and denial resolution.
Potential Careers for Graduates
Medical Biller
Medical Coder
Claims Analyst Biller – Patient Financial Services
Medical Biller/Collector
Duration:
6 months
Certification:
American Association of Professional Coders (AAPC) Certified Professional Biller (CPB)
Prerequisites:
***Individuals enrolling in this course must have functional vision and able to efficiently use the computer at no greater than 4x magnification level
75% comprehension when reading technical materials at 120 wpm
Fill out forms with a keyboarding speed of at least 30 wpm
Excellent skill using a web browser
Excellent skill with Microsoft Word, Excel and Outlook
Ability to read and write at or above a 10th-grade level
Ability to compose a professional email
For more information, including how to apply, please fill out this contact form or contact your LHOB case manager.