Audible Pedestrian Signals in Broward County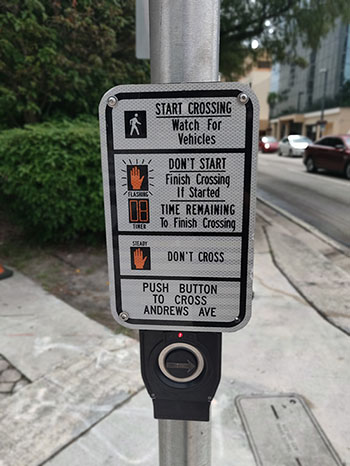 Audible pedestrian signals are devices that are integrated into the push-button street crossing mechanism.
A list of audible signals divided by city is below. Each row has a link to Google Street View to explore the intersection virtually. You can search for a road or city name, or look at the entire list below.
Directions include ALL=all directions, Eastbound=Eastbound, Westbound=Westbound, Northbound=Northbound, Southbound=Southbound
The numbers listed represent the crosswalk:
1 = North side of the intersection
2 = East side of the intersection
3 = South side of the intersection
4 = West side of the intersection
Every effort has been made to verify the accuracy of the below information. Please report questions, comments, or inaccuracies to Steve Matson
Updated: 9/01/2021
Search by Road Name or City:
Intersections with audible pedestrian signals in Broward County:

| City | Intersection | Directions |
| --- | --- | --- |
| COCONUT CREEK | COCONUT CREEK PARKWAY & NW 39 AVE, COCONUT CREEK | ALL |
| COCONUT CREEK | HILLSBORO BOULEVARD  & NW 39 AVENUE, COCONUT CREEK | ALL |
| COCONUT CREEK | LYONS ROAD & HILLSBORO BOULEVARD, COCONUT CREEK | ALL |
| COCONUT CREEK | LYONS ROAD & 5400 BLK/ST ANDREWS ENT, COCONUT CREEK | ALL |
| COCONUT CREEK | SR 7 & HOLMBERG RD/JOHNSON RD, COCONUT CREEK | ALL |
| COCONUT CREEK | SR 7 & WINSTON PARK BOULEVARD, COCONUT CREEK | Eastbound, Westbound (3,1) |
| COOPER CITY | FLAMINGO ROAD & STIRLING ROAD, COOPER CITY | Northbound,Westbound (2,1) |
| COOPER CITY | FLAMINGO ROAD & SHERIDAN STREET, COOPER CITY | Northbound, Eastbound (2,3) |
| COOPER CITY | STIRLING ROAD & SW 100 AVE/PALM AVENUE, COOPER CITY | ALL |
| CORAL SPRINGS | ATLANTIC BOULEVARD & RIVERSIDE DRIVE, CORAL SPRINGS | ALL |
| CORAL SPRINGS | CORAL RIDGE DRIVE & WESTVIEW DRIVE, CORAL SPRINGS | ALL |
| CORAL SPRINGS | CORAL SPRINGS DRIVE & RIVERSIDE DRIVE, CORAL SPRINGS | ALL |
| CORAL SPRINGS | CORAL SPRINGS DRIVE & LAKEVIEW DRIVE, CORAL SPRINGS | ALL |
| CORAL SPRINGS | RIVERSIDE DRIVE & SHADOW WOOD DRIVE, CORAL SPRINGS | ALL |
| CORAL SPRINGS | RIVERSIDE DRIVE & RAMBLEWOOD DRIVE, CORAL SPRINGS | ALL |
| CORAL SPRINGS | SAMPLE ROAD & CORAL RIDGE DRIVE, CORAL SPRINGS | ALL |
| CORAL SPRINGS | SAMPLE ROAD & UNIVERSITY DRIVE, CORAL SPRINGS | ALL |
| CORAL SPRINGS | UNIVERSITY DRIVE & SOUTHGATE BOULEVARD, CORAL SPRINGS | ALL |
| DANIA BEACH | DANIA BEACH  BLVD & SE 5 AVENUE, DANIA BEACH | Northbound, Eastbound (2,3) |
| DAVIE | DAVIE ROAD EXTENSION & N 72 AVENUE, DAVIE | Northbound, Southbound, Eastbound (2,4,3) |
| DAVIE | DYKES ROAD & STIRLING ROAD, DAVIE | ALL |
| DAVIE | SW 136 AVENUE & SHENANDOAH PARKWAY, DAVIE | Westbound (1) |
| DEERFIELD BEACH | A1A & HILLSBORO BOULEVARD, DEERFIELD BEACH | ALL |
| DEERFIELD BEACH | HILLSBORO BOULEVARD & CENTURY BOULEVARD, DEERFIELD BEACH | Eastbound, Westbound, Southbound (3,1,4) |
| DEERFIELD BEACH | HILLSBORO BOULEVARD & MILITARY TRAIL, DEERFIELD BEACH | ALL |
| DEERFIELD BEACH | HILLSBORO BOULEVARD & RIVERVIEW/COVE, DEERFIELD BEACH | Northbound, Southbound |
| DEERFIELD BEACH | HILLSBORO BOULEVARD & DEERFIELD PLAZA, DEERFIELD BEACH | Northbound, Southbound (2,4) |
| DEERFIELD BEACH | HILLSBORO BOULEVARD & COUNTRY CLUB DRIVE, DEERFIELD BEACH | Westbound, Southbound (1,4) |
| DEERFIELD BEACH | HILLSBORO BOULEVARD & SE 12 AVENUE, DEERFIELD BEACH | Eastbound, Northbound |
| DEERFIELD BEACH | MILITARY TRAIL & S of HILLSBORO BOULEVARD, DEERFIELD BEACH | Eastbound, Westbound (3,1) |
| DEERFIELD BEACH | SAMPLE ROAD & MILITARY TRAIL, DEERFIELD BEACH | ALL |
| DEERFIELD BEACH | SAMPLE ROAD & NW 5 AVE/TERRACE, DEERFIELD BEACH | ALL |
| DEERFIELD BEACH | SE 10 STREET & SE 6 AVENUE, DEERFIELD BEACH | ALL |
| DEERFIELD BEACH | US 1 & HILLSBORO BOULEVARD, DEERFIELD BEACH | ALL |
| DEERFIELD BEACH | US 1 & SE 2 COURT, DEERFIELD BEACH | Westbound (1) |
| DEERFIELD BEACH | US 1 & NE 2 STREET, DEERFIELD BEACH | ALL |
| DEERFIELD BEACH | US 1 & SE 7 STREET/COURT, DEERFIELD BEACH | ALL |
| DEERFIELD BEACH | US 1 & SE 10 STREET, DEERFIELD BEACH | ALL |
| FORT LAUDERDALE | A1A & OAKLAND PARK BOULEVARD, FORT LAUDERDALE | ALL |
| FORT LAUDERDALE | A1A & NE 36 STREET, FORT LAUDERDALE | Eastbound, Westbound (3,1) |
| FORT LAUDERDALE | A1A & NE 32 STREET, FORT LAUDERDALE | Westbound (1) |
| FORT LAUDERDALE | A1A & NE 34 STREET, FORT LAUDERDALE | Eastbound, Southbound (3,4) |
| FORT LAUDERDALE | A1A & NE 23 STREET, FORT LAUDERDALE | Northbound, Eastbound, Southbound (2,3,4) |
| FORT LAUDERDALE | A1A & NE 30 STREET, FORT LAUDERDALE | Northbound, Southbound, Westbound (2,4,1) |
| FORT LAUDERDALE | A1A & N OF NE 18 STREET, FORT LAUDERDALE | Eastbound, Westbound (3,1) |
| FORT LAUDERDALE | ANDREWS AVENUE & N 13 STREET, FORT LAUDERDALE | ALL |
| FORT LAUDERDALE | ANDREWS AVENUE & S 2 STREET, FORT LAUDERDALE | Eastbound, Westbound (3,1) |
| FORT LAUDERDALE | ANDREWS AVENUE & S 17 STREET, FORT LAUDERDALE | ALL |
| FORT LAUDERDALE | ANDREWS AVENUE & N 6 STREET, FORT LAUDERDALE | ALL  |
| FORT LAUDERDALE | ANDREWS AVENUE & S 6 STREET, FORT LAUDERDALE | ALL |
| FORT LAUDERDALE | BROWARD BOULEVARD & ANDREWS AVENUE, FORT LAUDERDALE | ALL |
| FORT LAUDERDALE | BROWARD BOULEVARD & W 1 AVENUE, FORT LAUDERDALE | ALL |
| FORT LAUDERDALE | COMMERCIAL BOULEVARD & BAYVIEW DRIVE, FORT LAUDERDALE | ALL |
| FORT LAUDERDALE | COMMERCIAL BOULEVARD & POWERLINE ROAD, FORT LAUDERDALE | ALL |
| FORT LAUDERDALE | DAVIE BOULEVARD & SW 9 AVENUE, FORT LAUDERDALE | ALL |
| FORT LAUDERDALE | DAVIE BOULEVARD & SW 4 AVENUE, FORT LAUDERDALE | ALL |
| FORT LAUDERDALE | DAVIE BOULEVARD & ANDREWS AVENUE, FORT LAUDERDALE | ALL |
| FORT LAUDERDALE | DAVIE BOULEVARD & SE 3 AVENUE, FORT LAUDERDALE | ALL |
| FORT LAUDERDALE | DAVIE BOULEVARD & SW 31 AVENUE, FORT LAUDERDALE | ALL |
| FORT LAUDERDALE | DAVIE BOULEVARD & SW 35 AVENUE, FORT LAUDERDALE | ALL |
| FORT LAUDERDALE | NE 3 AVENUE & NE 3 STREET, FORT LAUDERDALE | ALL |
| FORT LAUDERDALE | NW 19 STREET & NW 24 AVENUE, FORT LAUDERDALE | ALL |
| FORT LAUDERDALE | OAKLAND PARK BOULEVARD & BAYVIEW DRIVE, FORT LAUDERDALE | Eastbound, Westbound (3,1) |
| FORT LAUDERDALE | OAKLAND PARK BOULEVARD & MIDDLE RIVER DR., FORT LAUDERDALE | ALL |
| FORT LAUDERDALE | SE 3 AVENUE & SE 6 STREET, FORT LAUDERDALE | ALL |
| FORT LAUDERDALE | SR 84 & SW 9 AVENUE, FORT LAUDERDALE | Southbound (4) |
| FORT LAUDERDALE | SUNRISE BOULEVARD & NE 12 AVE, FORT LAUDERDALE | Northbound/Southbound (2,4) |
| FORT LAUDERDALE | SW 2 STREET & SW 1 AVENUE, FORT LAUDERDALE | ALL |
| FORT LAUDERDALE | SW 27 AVENUE & N of SW 11 COURT, FORT LAUDERDALE | EW |
| FORT LAUDERDALE | SW 4 AVENUE & SW 17 STREET, FORT LAUDERDALE | ALL |
| FORT LAUDERDALE | SW 4 AVENUE & SW 7 STREET, FORT LAUDERDALE | ALL |
| FORT LAUDERDALE | SW 4 AVENUE & SW 6 STREET, FORT LAUDERDALE | ALL |
| FORT LAUDERDALE | US 1 & NE 33 COURT, FORT LAUDERDALE | ALL |
| FORT LAUDERDALE | US 1 & HOLY CROSS HOSPITAL, FORT LAUDERDALE | Eastbound, Southbound (3,4) |
| FORT LAUDERDALE | US 1 & NE 13 STREET, FORT LAUDERDALE | ALL |
| FORT LAUDERDALE | US 1 & DAVIE BOULEVARD, FORT LAUDERDALE | ALL |
| FORT LAUDERDALE | US 1 & SE 17 STREET, FORT LAUDERDALE | ALL |
| HALLANDALE BEACH | A1A & HEMISPHERES/S 1950 BLOCK, HALLANDALE BEACH | Eastbound (3) |
| HALLANDALE BEACH | A1A & PRINCE GEORGE/1865 BLOCK, HALLANDALE BEACH | ALL |
| HALLANDALE BEACH | HALLANDALE BEACH BLVD & NE 14 AVENUE, HALLANDALE BEACH | ALL |
| HALLANDALE BEACH | HALLANDALE BEACH BLVD & E of  SE 16 AVENUE, HALLANDALE BEACH | Northbound, Southbound (2,4) |
| HALLANDALE BEACH | US 1 & HALLANDALE BEACH BLVD., HALLANDALE BEACH | ALL |
| HOLLYWOOD | A1A & MAGNOLIA TERRACE, HOLLYWOOD | Northbound, Westbound (2, 1) |
| HOLLYWOOD | A1A & IRIS TERRACE, HOLLYWOOD | Westbound (1) |
| HOLLYWOOD | A1A & INDIANA STREET/900 BLOCK N, HOLLYWOOD | ALL |
| HOLLYWOOD | A1A & HARRISON STREET/100 BLK S, HOLLYWOOD | ALL |
| HOLLYWOOD | A1A & SEA AIRE TOWERS, HOLLYWOOD | E/W |
| HOLLYWOOD | DAVIE ROAD EXTENSION & W OF NW 75 AVENUE, HOLLYWOOD | Northbound, Southbound (2,4) |
| HOLLYWOOD | HOLLYWOOD BOULEVARD & PARK ROAD, HOLLYWOOD | ALL |
| HOLLYWOOD | HOLLYWOOD BOULEVARD & N/S 35 AVENUE, HOLLYWOOD | ALL |
| HOLLYWOOD | JOHNSON STREET & N PARK ROAD, HOLLYWOOD | ALL |
| HOLLYWOOD | JOHNSON STREET & N 35 AVENUE, HOLLYWOOD | ALL |
| HOLLYWOOD | N 46 AVENUE & NORTH HILLS DRIVE, HOLLYWOOD | Westbound (1) |
| HOLLYWOOD | PEMBROKE ROAD & S 62 AVENUE, HOLLYWOOD | ALL |
| HOLLYWOOD | PEMBROKE ROAD & S 22 AVE/NW 2 AVE, HOLLYWOOD | Northbound, Southbound (2,4) |
| HOLLYWOOD | POLK STREET & N 24 AVENUE, HOLLYWOOD | ALL |
| HOLLYWOOD | SHERIDAN STREET & N 46 AVENUE, HOLLYWOOD | ALL |
| HOLLYWOOD | SR 7 & HOLLYWOOD BLVD, HOLLYWOOD | ALL |
| HOLLYWOOD | STIRLING ROAD & LAKESHORE DRIVE, HOLLYWOOD | Southbound (4) |
| HOLLYWOOD | STIRLING ROAD & SW 33 AVENUE, HOLLYWOOD | Northbound, Southbound (2,4) |
| HOLLYWOOD | TAFT STREET & NORTH PARK ROAD, HOLLYWOOD | ALL |
| HOLLYWOOD | US 1 & POLK STREET, HOLLYWOOD | ALL (SOUTH HALF ON CIRCLE) |
| HOLLYWOOD | US 1 & TYLER STREET, HOLLYWOOD | P8 (CROSSING YOUNG CIRCLE) |
| HOLLYWOOD | US 1 & HARRISON STREET, HOLLYWOOD | ALL (INC. AT HWD BLVD) |
| HOLLYWOOD | US 1 & SOUTH YOUNG CIRCLE, HOLLYWOOD | P4, P8 & P6 (SEE PLAN) |
| HOLLYWOOD | VAN BUREN ST & S 24 AVENUE, HOLLYWOOD | ALL |
| LAUDERDALE BY THE SEA | A1A & COMMERCIAL BOULEVARD, LAUDERDALE BY THE SEA | ALL |
| LAUDERDALE BY THE SEA | COMMERCIAL BOULEVARD & SEA GRAPE, LAUDERDALE BY THE SEA | ALL |
| LAUDERDALE LAKES | NW 31 AVENUE & NW 26 STREET, LAUDERDALE LAKES | ALL |
| LAUDERDALE LAKES | OAKLAND PARK BOULEVARD & SOMERSET DRIVE, LAUDERDALE LAKES | Eastbound, Northbound (3, 2) |
| LAUDERDALE LAKES | SR 7 & OAKLAND PARK BOULEVARD, LAUDERDALE LAKES | ALL |
| LAUDERDALE LAKES | SR 7 & NW 41 STREET, LAUDERDALE LAKES | ALL |
| LAUDERHILL | BROWARD BOULEVARD & W 35/KENTUCKY AVENUE, LAUDERHILL | Northbound, Southbound (2,4) |
| LAUDERHILL | NW 19 STREET & NW 33 AVENUE, LAUDERHILL | Eastbound, Westbound, Northbound (3, 1, 2) |
| LAUDERHILL | NW 19 STREET & NW 38 AVENUE, LAUDERHILL | Eastbound, Westbound, Northbound (3, 1, 2) |
| LAUDERHILL | NW 31 AVENUE & NW 19 STREET, LAUDERHILL | ALL |
| LAUDERHILL | NW 56 AVENUE & NW 25 STREET, LAUDERHILL | ALL |
| LAUDERHILL | NW 56 AVENUE & NW 19 STREET, LAUDERHILL | ALL |
| LAUDERHILL | OAKLAND PARK BOULEVARD & NW 56 AVE, LAUDERHILL | ALL |
| LAUDERHILL | SR 7 & NW 21 STREET, LAUDERHILL | ALL |
| LAUDERHILL | SR 7 & 1400 BLK/MALL/BUS DEPOT, LAUDERHILL | ALL |
| LAUDERHILL | SUNRISE BOULEVARD & NW 34 AVENUE, LAUDERHILL | Northbound, Southbound (2,4) |
| LIGHTHOUSE POINT | SAMPLE ROAD & NE 21 AVENUE, LIGHTHOUSE POINT | Northbound (2) |
| LIGHTHOUSE POINT | US 1 & NE 33 STREET, LIGHTHOUSE POINT | Eastbound, Westbound (3,1) |
| MARGATE | ATLANTIC BOULEVARD & ROCK ISLAND ROAD, MARGATE | ALL |
| MARGATE | ATLANTIC BOULEVARD & PALM LAKES, MARGATE | Northbound, Southbound (2,4) |
| MARGATE | ATLANTIC BOULEVARD & BANKS ROAD, MARGATE | ALL |
| MARGATE | COCONUT CREEK PARKWAY & BANKS ROAD, MARGATE | ALL |
| MARGATE | SR 7 & FOREST BLVD/SW 7 STREET, MARGATE | ALL |
| MARGATE | SR 7 & ATLANTIC BOULEVARD, MARGATE | ALL |
| MARGATE | SR 7 & CELEastboundRATION POINTE, MARGATE | Eastbound, Westbound (3,1) |
| MIRAMAR | PALM AVENUE & MIRAMAR BOULEVARD, MIRAMAR | ALL |
| MIRAMAR | PALM AVENUE & PEMBROKE ROAD, MIRAMAR | ALL |
| MIRAMAR | PEMBROKE ROAD & DYKES ROAD, MIRAMAR | ALL |
| MIRAMAR | PEMBROKE ROAD & SW 136  AVENUE, MIRAMAR | Eastbound, Northbound (3, 2) |
| MIRAMAR | SR 7 & PEMBROKE ROAD, MIRAMAR | ALL |
| MIRAMAR | SR 7 & HALLANDALE BEACH BLVD., MIRAMAR | ALL |
| MIRAMAR | SW 178 AVE/SILVER LKS BLVD & PEMBROKE ROAD, MIRAMAR | ALL |
| NORTH LAUDERDALE | SR 7 & BAILEY ROAD, NORTH LAUDERDALE | Westbound (1) |
| NORTH LAUDERDALE | SR 7 & BOULEVARD OF CHAMPIONS, NORTH LAUDERDALE | Northbound, Southbound, Westbound (2,4,1) |
| OAKLAND PARK | COMMERCIAL BOULEVARD & NE 6 AVENUE, OAKLAND PARK | Eastbound, Northbound (3, 2) |
| OAKLAND PARK | NW 21 AVENUE & NW 39 STREET, OAKLAND PARK | Eastbound, Westbound, Southbound (3,1,4)  |
| OAKLAND PARK | NW 21 AVENUE & NW 44 STREET, OAKLAND PARK | Eastbound, Westbound, Southbound (3,1,4) |
| OAKLAND PARK | OAKLAND PARK BOULEVARD & NW 31 AVENUE, OAKLAND PARK | ALL |
| OAKLAND PARK | OAKLAND PARK BOULEVARD & NW 27 AVENUE, OAKLAND PARK | Southbound (4) |
| OAKLAND PARK | PROSPECT ROAD & NW 21 AVENUE, OAKLAND PARK | ALL |
| PARKLAND | HILLSBORO BOULEVARD & NOB HILL ROAD, PARKLAND | ALL |
| PEMBROKE PINES | HIATUS ROAD & JOHNSON STREET, PEMBROKE PINES | Westbound, Northbound, Southbound (1,2,4) |
| PEMBROKE PINES | PEMBROKE ROAD & JODI LANE, PEMBROKE PINES | ALL |
| PEMBROKE PINES | SHERIDAN STREET & DYKES ROAD, PEMBROKE PINES | ALL |
| PEMBROKE PINES | TAFT STREET & HIATUS ROAD, PEMBROKE PINES | ALL |
| PEMBROKE PINES | UNIVERSITY DRIVE & PASADENA BOULEVARD, PEMBROKE PINES | ALL: BEACONING 1,4. APS 2,3. |
| PLANTATION | BROWARD BOULEVARD & SR 7 (US 441), PLANTATION | ALL |
| PLANTATION | BROWARD BOULEVARD & E. ACRE DRIVE, PLANTATION | Southbound (4) |
| PLANTATION | NOB HILL ROAD & CLEARY BOULEVARD, PLANTATION | ALL |
| PLANTATION | NW 70 AVENUE & NW 5 STREET, PLANTATION | Eastbound, Southbound (3,4) |
| PLANTATION | NW 70 AVENUE & CYPRESS RD., PLANTATION | Eastbound (3) |
| PLANTATION | PETERS ROAD & SW 54 AVENUE, PLANTATION | ALL |
| PLANTATION | SUNRISE BOULEVARD & LAUDERDALE WEST DRIVE, PLANTATION | Northbound (2) |
| POMPANO BEACH | A1A & N 200 BLOCK, POMPANO BEACH | EW |
| POMPANO BEACH | A1A & ATLANTIC BOULEVARD, POMPANO BEACH | ALL |
| POMPANO BEACH | COPANS ROAD & NE 12 TERR/FASHION SQ W, POMPANO BEACH | Northbound (2) |
| POMPANO BEACH | CYPRESS ROAD & SW 2 STREET, POMPANO BEACH | Eastbound (3)           |
| POMPANO BEACH | CYPRESS ROAD & SW 3 STREET, POMPANO BEACH | ALL |
| POMPANO BEACH | MARTIN LUTHER KING JR BLVD & NW 27 AVENUE, POMPANO BEACH | Eastbound, Westbound, Northbound (3, 1, 2) |
| POMPANO BEACH | NE 14 STREET (SR 844)  & NE 23 AVENUE, POMPANO BEACH | ALL |
| POMPANO BEACH | POWERLINE ROAD & ATLANTIC BOULEVARD, POMPANO BEACH | ALL |
| POMPANO BEACH | POWERLINE ROAD & N COURSE DRIVE, POMPANO BEACH | Northbound, Southbound, Westbound (2,4,1) |
| POMPANO BEACH | POWERLINE ROAD & S COURSE DR/CYPRESS BEND, POMPANO BEACH | Northbound, Southbound, Westbound (2,4,1) |
| POMPANO BEACH | US 1 & SE 7 STREET, POMPANO BEACH | Westbound (1) |
| POMPANO BEACH | US 1 & NE 24 STREET, POMPANO BEACH | ALL |
| POMPANO BEACH  | CYPRESS ROAD & MC NAB ROAD, POMPANO BEACH  | ALL |
| SOUTHWEST RANCHES | GRIFFIN ROAD & DYKES ROAD, SOUTHWEST RANCHES | Eastbound, Westbound, Southbound (3,1,4) |
| SOUTHWEST RANCHES | GRIFFIN ROAD & SW 12800 BLOCK, SOUTHWEST RANCHES | Southbound (4) |
| SUNRISE | HIATUS ROAD & N of OAKLAND PARK BLVD, SUNRISE | EW |
| SUNRISE | HIATUS ROAD & NW 44 STREET, SUNRISE | ALL |
| SUNRISE | HIATUS ROAD & NW 29 MANOR, SUNRISE | ALL |
| SUNRISE | NOB HILL ROAD & JOSH LEE BOULEVARD, SUNRISE | Eastbound, Westbound (3,1) |
| SUNRISE | NOB HILL ROAD & SUNRISE LAKES, SUNRISE | Northbound, Southbound, Eastbound (2,4,3) |
| SUNRISE | NOB HILL ROAD & NW 47 ST/SPRINGTREE LKS DR, SUNRISE | ALL |
| SUNRISE | OAKLAND PARK BOULEVARD & FLAMINGO ROAD, SUNRISE | Eastbound, Westbound, Southbound (3,1,4) |
| SUNRISE | OAKLAND PARK BOULEVARD & PINE ISLAND ROAD, SUNRISE | ALL |
| SUNRISE | OAKLAND PARK BOULEVARD & NOB HILL ROAD, SUNRISE | ALL |
| SUNRISE | OAKLAND PARK BOULEVARD & NW 115 TERRACE, SUNRISE | ALL |
| SUNRISE | OAKLAND PARK BOULEVARD & NW 94 AVENUE, SUNRISE | ALL |
| SUNRISE | OAKLAND PARK BOULEVARD & HIATUS ROAD, SUNRISE | ALL |
| SUNRISE | OAKLAND PARK BOULEVARD & JOSH LEE BOULEVARD, SUNRISE | ALL |
| SUNRISE | OAKLAND PARK BOULEVARD & NW 120 WAY, SUNRISE | ALL |
| SUNRISE | OAKLAND PARK BOULEVARD & NW 64 AVENUE, SUNRISE | Northbound, Southbound (2,4) |
| SUNRISE | SUNRISE BOULEVARD & WHITE SEAHORSE/SATIN LEAF, SUNRISE | ALL |
| SUNRISE | UNIVERSITY DRIVE & OAKLAND PARK BOULEVARD, SUNRISE | ALL |
| SUNRISE | WESTON ROAD & BLATT ROAD, SUNRISE | ALL |
| TAMARAC | COMMERCIAL BOULEVARD & NW 94 AVENUE, TAMARAC | ALL |
| TAMARAC | COMMERCIAL BOULEVARD & MAINLANDS, TAMARAC | ALL |
| TAMARAC | COMMERCIAL BOULEVARD & SR 7 (US 441), TAMARAC | ALL |
| TAMARAC | COMMERCIAL BOULEVARD & NW 70 AVENUE, TAMARAC | ALL |
| TAMARAC | COMMERCIAL BOULEVARD & NW 47 TERRACE, TAMARAC | Eastbound, Westbound, Southbound (3,1,4) |
| TAMARAC | COMMERCIAL BOULEVARD & NW 33 AVENUE, TAMARAC | ALL |
| TAMARAC | NOB HILL ROAD & NW 77 STREET, TAMARAC | ALL |
| TAMARAC | NOB HILL ROAD & NW 71 PLACE, TAMARAC | ALL |
| TAMARAC | PINE ISLAND ROAD & SOUTHGATE BOULEVARD, TAMARAC | ALL |
| TAMARAC | PINE ISLAND ROAD & MC NAB ROAD, TAMARAC | ALL |
| TAMARAC | UNIVERSITY DRIVE & COMMERCIAL BOULEVARD, TAMARAC | ALL |
| UNINCORPORATED | NW 31 AVENUE & NW 6 STREET (SISTRUNK), UNINCORPORATED | Eastbound |
| WESTON | BONAVENTURE BOULEVARD & RACQUET CLUB, WESTON | Eastbound, Southbound (3,4) |
| WESTON | WESTON ROAD & EMERALD PARK/RICK CASE, WESTON | ALL |
| WILTON MANORS | ANDREWS AVENUE & N 29 STREET, WILTON MANORS | Eastbound, Southbound (3,4) |
| WILTON MANORS | NE 4 AVENUE (WILTON DR) & NE 6 AVENUE, WILTON MANORS | ALL |
| WILTON MANORS | WILTON DRIVE & NE 6 AVENUE, WILTON MANORS | ALL |