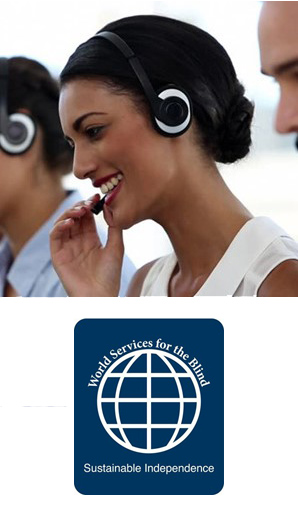 Offering impeccable customer service is critical for any organization or company hoping to create and maintain a loyal customer base. World Services for the Blind's eight-week Call Center Specialist program imparts a vast skill set upon its participants so that, upon graduation, they are prepared to take on the role of call center representative with confidence.
Organized into 11 components, the Call Center Specialist program covers the following topics:
Customer service
Soft skills
Communication
Relationship building
Sales and marketing
Dealing with difficult customers
Operations
Human resources
Microsoft Office (Outlook, Word and Excel) programs
The bulk of instruction will focus on sharpening students' skills in the three Microsoft programs that will be essential to their career development. Students will study Outlook, Word, and Excel. Each module will provide an in-depth look at each program, and how to use them to their fullest potential in the customer service/call center arena.
Potential Careers for Graduates:
Customer Service Representative in a call center
Debt Collector in a call center
Customer Service Representative working from home
E-Commerce Customer Service Representative working from home
Customer Service Associate in-store
Duration:
6 months
Prerequisites:
High school diploma or GED
Keyboarding speed of 35 wpm (45 wpm preferred)
12th-grade spelling level
Print reading speed of 100 wpm with 75% comprehension
Excellent ZoomText or JAWS skills
For more information, including how to apply, please fill out this contact form or contact your LHOB case manager.