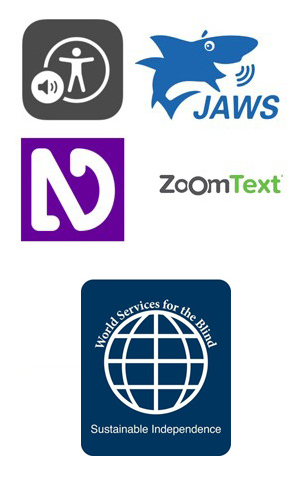 Our Certified Assistive Technology Instructor program provides clients with the skills necessary to be an effective, professional, and highly employable assistive technology instructor. Study topics range from computer fundamentals to advanced teaching theory. The program puts a strong focus on the practical application of skills and the reality of today's workforce. Two tracks are offered for the ATI program: CATIS certified and the ATI track.
Clients in the WSB Assistive Technology Instructor (ATI) program will learn to teach individuals the functional use of a wide variety of AT hardware and software. Clients will also develop an instructional mindset, leaving the program with a toolkit they will be able to use in every teaching role. The Certified Assistive Technology Instructor program has two tracks - CATIS (Certified Assistive Technology Instructional Specialist for the blind and visually impaired) and the WSB ATI track. The Prerequisites for both paths are the same and are listed below.
Duration:
9-12 months, (optional CATIS track adds an additional 6-12 months)
Certification:
JAWS, ZoomText, NVDA for non-CATIS track
JAWS, ZoomText, NVDA, and CATIS for CATIS track
Prerequisites:
Bachelor's Degree preferred
Successful completion of the AT proficiency assessment
Print reading speed of 100 wpm, with 75% comprehension
Braille reading speed of 30 wpm (if primary Braille user), or 10 wpm (if non-Braille user)
Keyboarding speed of 30 wpm
12th-grade spelling and grammar level
Strong logical reasoning ability and emotional maturity
Ability to learn and retain information
Good interpersonal relationship qualities
Ability to work in a high-tech environment
Ability to adapt to constant change
For more information, including how to apply, please fill out this contact form or contact your LHOB case manager.